The Little Mouse Santi named among Best Books of 2015 by Kirkus Reviews!
Louisiana-based children's workshop Confetti Park is honored to announce that its first publication, The Little Mouse Santi, written by New Orleans author David Eugene Ray, has been named to Kirkus Reviews' Best Books of 2015.
Kirkus Reviews has named The Little Mouse Santi, a children's book about a mouse who wants to be a cat, among the best books released in 2015. Kirkus Reviews calls The Little Mouse Santi "a clever picture book with an unexpected punch line that will delight young readers" in a starred review. This is the first publication from the Confetti Park children's workshop based in New Orleans.
The Little Mouse Santi was written by David Eugene Ray (@Aquarium_Dave on Twitter), a former schoolteacher who works at the Audubon Nature Institute in New Orleans. It was illustrated by Santiago Germano of Uruguay, whose body of work includes the animated feature film Anina.
The Little Mouse Santi debuted in January 2015 with distribution by Small Press United and has won several awards, including a Gold Mom's Choice Award and a Bronze Moonbeam Children's Book Award in the category of Best Picture Books for 4-8 Year Olds.
"We are so honored to be named by Kirkus as among the 100 best indie books, and among the best books, released this year," says Confetti Park founder Katy Hobgood Ray (whose husband is the author). "It's incredibly gratifying and affirming when your creation resonates with other people. Thank you, Kirkus Reviews, for getting the word out about our little book and our little company!"
Confetti Park is a family-operated children's media workshop in New Orleans that creates and curates entertainment for children. Santi author David Ray and Katy Ray regularly read and perform at schools and libraries in their home state of Louisiana. Katy also hosts and produces the Confetti Park radio show and podcast, featuring music and stories spun in Louisiana.
Illustrator Santiago Germano, whose "wonderful, cartoonish images…look like they wouldn't be out of place in a Studio Ghibli animated film" (Kirkus Reviews), is currently working on a music video for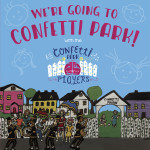 Confetti Park. This time, Germano is giving life to the "Feufollet," a spooky Louisiana swamp spirit. The song appears on Confetti Park's first musical release for children, We're Going to Confetti Park!, which debuted in November 2015.
The Little Mouse Santi is available at Amazon, Barnes & Noble, and select independent booksellers nationwide. You can also order it from Confetti Park.
For more information about Confetti Park projects, visit https://confettipark.com
About Kirkus Reviews
Founded in 1933, Kirkus has been one of the most trusted and authoritative voices in book discovery. When Kirkus Reviews was established by Virginia Kirkus, it was an innovation in the publishing field. Virginia arranged to receive advance galley proofs of books from publishers — only 20 or so at first, but eventually nearly every firm of any size in the industry. She read the galleys and wrote brief, critical evaluations of their literary merit and probable popular appeal. Today, Kirkus Reviews covers more than 7,000 books published by traditional houses and more than 3,000 self-published books every year. The magazine is published on the 1st and 15th of every month, and because of the scope of their coverage, their authoritative voice and the timeliness of their reviews, Kirkus Reviews is revered by many as the first indicator of a book's potential. For more information, visit www.kirkus.com.