A Kirkus Star for Confetti Park's first book, The Little Mouse Santi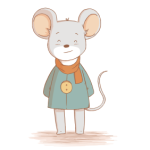 We are really proud to report that New Orleans' newest children's media publishing house, the Confetti Park workshop of Bienville Ray LLC, just got our first-ever review on our first children's publication. And it's terrific!
We got a starred review from Kirkus for The Little Mouse Santi by David Eugene Ray, with illustrations by Santiago Germano. (The Kirkus Star is awarded to books of exceptional merit.)
A clever picture book with an unexpected punch line that will delight young readers… Ray's text is spare and approachable…accessible to beginning, independent readers…clever text is elevated to a true delight by Germano's wonderful, cartoonish images, which look like they wouldn't be out of place in a Studio Ghibli animated film… full of kid appeal.

—KIRKUS REVIEWS (starred review)
The Little Mouse Santi is officially available on January 15, 2015 through Small Press United. This beautifully illustrated story explores one of the most important aspects of a child's life, the search for identity. Santi wants to be a cat, and even though all the other mice laugh at him, he follows his dream. This timeless story ends with a whimsical twist: Santi learns a valuable lesson about self-determination and also learns he is not the only dreamer!
Learn more at https://confettipark.com/santi/
The Little Mouse Santi from Confetti Park on Vimeo.