Confetti Park Players Children's Chorus

Katy Hobgood Ray & the Confetti Park Players
Katy Hobgood Ray & the Confetti Park Players are a new kind of musical team! Katy leads a fun mashup of a kids choir and fabulous, well-established adult New Orleans musicians. They perform catchy originals and familiar folk songs, jump rope jingles and clapping chants, and a few rock 'n roll surprises.
Kids & Grownups Making Music
The Confetti Park Players have collaborated with such musical talents as world-renowned jazz drummer Johnny Vidacovich, flutist Patti Adams of the Louisiana Philharmonic Orchestra, internationally lauded clarinetist Evan Christopher, Lincoln Center-affiliated jazz trumpeter Jon-Erik Kellso, Dirty Dozen Brass Band saxophonist Roger Lewis, beloved New Orleans piano players Tom McDermott and AJ Loria, Grammy-nominated singer-songwriter Beth Patterson, Perdido Jazz band and folk-pop duo Ginger & the Bee. They've even recorded a song with famous street vendor Mr. Okra!
The Confetti Park Players do a bunch of really cool, fun things! They've performed at the New Orleans Jazz & Heritage Festival, French Quarter Fest, the Folk Art Fest, Mid-City Bayou Boogaloo, Beignet Fest, Creole Tomato Fest,  Fête Française, and numerous venues around New Orleans. They've recorded in professional studios with well-known New Orleans musicians, had video shoots with pirates, and are regularly featured on the Confetti Park radio program.
Interested in booking? Email [email protected]
---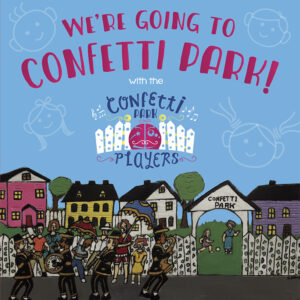 We're Going to Confetti Park is a whimsical, magical album of original children's music inspired by life in Louisiana.  Winner of a Parents' Choice Award, the CD features Katy Hobgood Ray and a chorus of children singing about pirates, frogs, snoballs, and Candy Land balls along with a star-studded lineup of musicians. 
Order the CD from Amazon