Storytime: Lophi Learns to Fly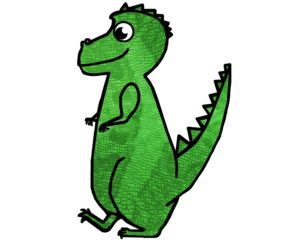 It's storytime from Confetti Park! In this episode we hear a tale of dinosaur friendship by award-winning children's author David Eugene Ray out of New Orleans. This is Lophi Learns to Fly.
Lophi is a small dinosaur who feels invisible in his herd. He lives a fairly contented life, but he's lonely. He spends most of his afternoons watching the pterodactyls flying in the sky.  One day, he meets Weena, and they discover that they both share this fascination with the winged creatures and wish, themselves, to fly. Weena has her own reasons for wanting to leave the herd behind.
The two decide to collaborate to build wings, and they set off on a construction adventure. Each day spent in the forest collecting the right materials brings them closer to launch, and closer together. Even though the two dinosaurs couldn't be more different, their friendship blossoms as they work through the challenges of learning to fly.
David Eugene Ray works with animals everyday at the Audubon Nature Institute. (Follow him on Twitter at @aquarium_dave.) He is the author of The Little Mouse Santi,  which was named a Best Book of 2015 by Kirkus Reviews.