Remembering Louisiana children's author Dianne de Las Casas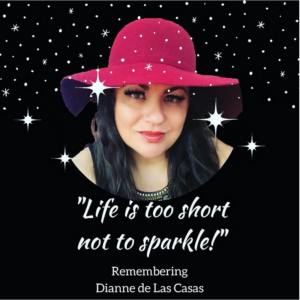 The world lost a bright light this week with the passing of Louisiana children's author and storyteller Dianne de Las Casas.
I first met Dianne at the studios of WHIV-FM in New Orleans, at a meet and greet of all the deejays. She, her daughter Eliana, and her boyfriend John Couret were all deejays with three back-to-back slots on Friday nights. It was great to finally meet this wonder team I'd heard of for so long. All of them were accomplished published authors, Dianne with over 20 credits to her name. She was the most prominent champion, along with her longtime friend Johnnette Downing, of Louisiana culture and folklore for children. And her daughter, Kid Chef Eliana, was already making a name for herself among culinary circles.
My first takeaway about Dianne was of her generous support and obvious love and affection for Eliana and John Couret, whom she always called "my sweetie," and for her daughter Soleil Casas, who was a talented artist. She wanted to talk about their accomplishments more than her own. Their lifelong artistic collaborations and entrepreneurial endeavors speak volumes about the deep affection, trust, and loyalty of the family members.
Dianne's generous spirit translated to Confetti Park. Though I wanted to interview her and Kid Chef Eliana, she wanted to interview me. She invited me to be on their Friday radio shows, and it was a pleasure participating in a very special three-hour episode celebrating Kid Chef Eliana's recent glorious win on Chopped teen tournament. I was witness to their incredible enthusiasm, joy, and unbridled optimism about the future.
Dianne believed in her loved ones' capacities for greatness, and she gifted them with that view of themselves, too. The sky is the limit for a child whose parent believes in them, and nurtures their interests and talents. Dianne proved that. (Eliana and Soleil, we all believe in you, too.)
Dianne was a friend to Confetti Park, always giving of her talent, time, and stories. She and John Couret were passionate about anti-bullying advocacy for children, and both talked openly about how they themselves were bullied as kids. They co-wrote a book called Captain Deadeye: The Bully Shark, a chapter book for young readers, and they regularly visited schools and libraries around the region to read and promote the story of little John with the lazy eye, who learned who to navigate school bullies. (The book was inspired by John Couret's own experiences; he was teased as a child because of his lazy eyes and called "Deadeye John.")
I was so delighted when John and Dianne spent the day in Algiers Point at our Family Pyrate Day earlier this year. They gamely dressed as pirates, sold books, and read and sang pirate songs with the children.
Dianne's legacy will live on, through her beautiful canon of children's books, and through the lives and accomplishments of her wonderful children. She certainly made the world a brighter and better place.
Dianne was known to say, "Life is too short not to sparkle!" Dianne, you sparkled here on earth. Your spirit will continue to sparkle among the stars.
– Katy Hobgood Ray