Bruce Sunpie Barnes: The magic of my father's music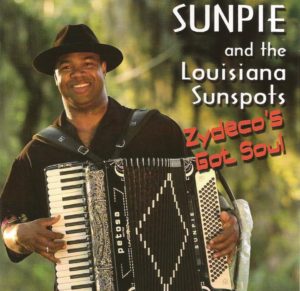 In this episode of Confetti Park, we hear a childhood music memory from Bruce Sunpie Barnes, the talented and multifaceted blues harmonica player and zydeco accordionist from Louisiana.
In addition to leading the zydeco band the Louisiana Sunspots, Bruce has had a long career as a ranger and naturalist at the Jean Lafitte National Historical Park and Preserve in Louisiana. (He also had a career in the world of NFL football, playing with the Kansas City Chiefs!) And he's the photographer and author of Talk That Music Talk. Read more about his biography at All Music.
Bruce's music has always been a part of his life, and even as a naturalist, he found music an effective way to communicate about the culture and importance of the Louisiana environment. Bruce was one of the key producers on two-album compilation, the National Park Service: Songs of the Lower Mississippi Delta.
Here Bruce shares a special memory of his father, who was one of his most important influences.

"
My earliest memory of anything to do with music was sitting on my father's knee and listening to him play harmonica. He would work all day, and when he'd come home in the evening, I always wanted to hear him play his harmonica. And he'd play a song called "Coon 'n the Hound" and make these barks like a dog…. and I was completely fascinated by it.
I would sit on his knee and he would play for all my brothers and sisters (a lot of them), but I would just sit and I would try to figure out where all that sound was coming from.
It was like magic. It was the first thing I ever associated with being magic.
I would always think about that when I would go to bed, 'I can't wait till I get old enough so I can make some magic.'"
---