Storytime: The Kitty at the Manger by Mary Jean Chester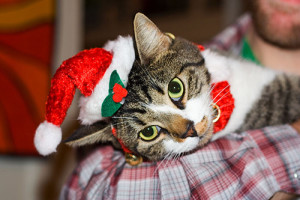 It's Christmas Storytime on Confetti Park!
You've heard about the friendly beasts in the manger, who all gave their own special gift to the baby Jesus, who was born in a stable so rude.
There was the donkey, who gave mother Mary a ride, and the cow, who gave up her manger and hay for the newborn child. The sheep gave his soft wool to keep the baby warm. And the doves cooed the baby to sleep with their sweet song…. did a kitty also offer some comfort to the baby?
In this retelling of the Christmas story, Mary Jean Chester of Bayou Gauche, Louisiana, imagines what role a barn cat might have had in the wee hours of the morning, when baby Jesus needed soothing.
Mary Jean is a retired teacher and has spent years telling stories to children in south Louisiana. Thank you, Mary Jean, for sharing your gift with Confetti Park!