Storytime: Juju the Good Voodoo by Michelle Hirstius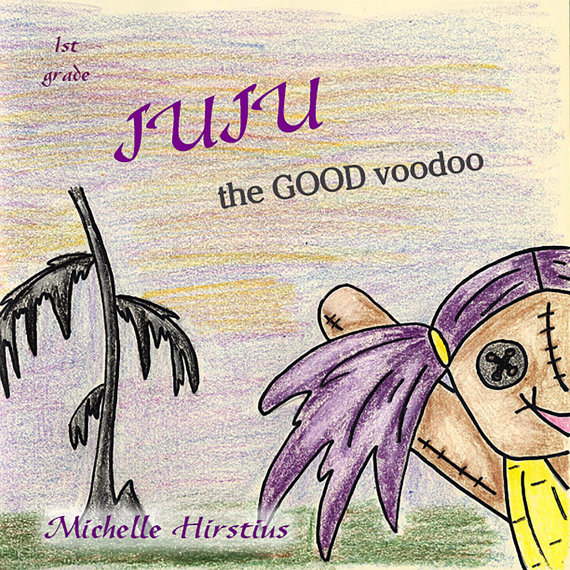 Are you ready for the creation story of Juju the Good Voodoo Doll?

In a cabin in a bayou one foggy night
Marie the VooDoo Queen was casting spells
on dolls that were good,
and some that were a fright.
One little doll she saw at a glance—
purple hair, big black eyes
and a gold dress.
could this be the very one, by chance?
"You are special…. you are the one!" and so Marie mixed the spell of good deeds for this doll.
This is how the story of Juju the Good Voodoo doll begins her role casting spells of good deeds on others who need help. This is the very first in the adorable series by Michelle Hirstius.
"Voodoo, Hoo Doo, You do! Juju knows voodoo, and I'll put a good spell on you." From here, you can follow her adventures in books both written and illustrated by the very talented and creative Michelle Hirstius, who lives in New Orleans.
Confetti Park is so delighted to share some of Juju's other adventures in our Storytime feature too! Listen along as Juju saves Christmas in da Bayou (and meets Cajun St. Nick) and as Juju Meets the Rougaroo—it's a perfectly hair-raising tale spooky tale featuring the Louisiana swamp monster. All these books are ideal for young readers and impart lessons about being nice and doing good.
From the author's website: "Juju is adorable and will enter your hearts as she comes off the pages of this delightful tale. Children and adults will fall in love and enjoy reading the origin of where Juju came from and what she is set out to see and what "good deeds" are to come.  This book lets children learn something known a negative can be positive. Juju is also different and unique and that's OK. You can be YOU!"
Check out all the adventures of Juju at http://www.michellehirstius.com/