Storytime: Dixie the Old Dawg by Tommie Townsley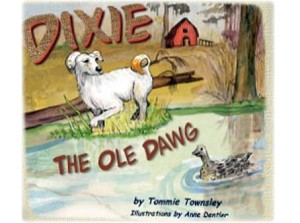 South Louisiana children's author Tommie Townsley narrates the story of Dixie the Old Dawg for Confetti Park!

Dixie The Ole Dawg
is a true classic country "Cajun Tale" set in Southwest Louisiana. This inspiring tale is about a dog who was abandoned by her family during a hurricane. After the storm, she finds her way to Ms. Theriot's house. It is there that the two of them build a trustworthy relationship. Dixie finds out what it feels like to be left alone with no one to care for her. However, she also realizes that sometimes you do have to go through a storm in order to find happiness! Both children and adults will enjoy this true story. It is full of love, friendship, trust, and affection. It you love dogs, you will love Dixie! Always remember, "Dogs are a man's best friend!"
You can order the book from Amazon or from Tommie's own publishing house, Ally-Gator BookBites.
Tommie, who lives in Lake Charles, is a great friend to Confetti Park and a leader in the children's art and culture scene in Louisiana. She has inspired kids around the state with her charming Cajun animal tales. Learn more about Tommie in this interview with Confetti Park.