Storytime: Adolpheaux, the Adventurous Dolphin by Tommie Townsley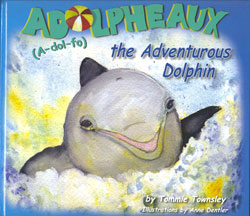 In this episode of Confetti Park, children's author Tommie Townsley of Lake Charles, Louisiana narrates the story of Adolpheaux, the Adventurous Dolphin.
In this Cajun animal tale, a small dolphin bravely sets out to discover what human beings are all about. His curiosity leads to an amazing alliance between himself and a sister and brother who will never forget him. This lovely tale teaches children to obey their mothers in order to stay safe in a world fraught with danger. This lively watery adventure is set in The Gulf of Mexico off the coast of Louisiana.

This narration of Amos the Artistic Alligator is shared here with permission from Tommie. The book, illustrated by Anne Dentler, is available for purchase on Amazon and at http://kidscajuntales.com/
Tommie Townsley was born in Sulphur, Louisiana and now lives in Lake Charles. She is Cajun and has written numerous children's books about Cajun life, many of them about animals. Tommie is the chairperson of the Southwest Louisiana Children's Book Writers and Illustrators Guild and publisher of Ally-Gator BookBites Publishing House in Lake Charles. Learn about Tommie Townsley and check out her books at http://kidscajuntales.com/