WDSU: Algiers park makes difference in the community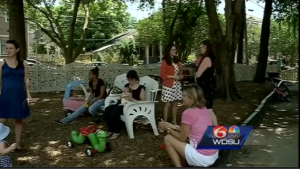 The original Confetti Park, the real park located at the corner of Verret and Pelican streets in the Algiers neighborhood, was recently featured by WDSU news anchor Charles Divins in a special community essay.
The piece highlights the work of local 501(c)3 Confetti Kids, Inc. and how they bring neighbors together through parks, recreation, and child-centered programming. Confetti Kids currently maintains two parks in the Old Algiers  neighborhood—Confetti Park and Delcazal Park.
Plans are underway for a third park in a part of the neighborhood that is a park desert. Confetti Kids is fundraising now and will be working with local residents and community leaders including Baakir Tyehimba, owner of Blackstar Books & Caffe, to plan the kind of park it will be. Baakir has long been advocating for recreational spaces for children and is the inspiration for the film The Lot, directed by Russell Blanchard.