Storytime: The Jungle Grapevine by Alex Beard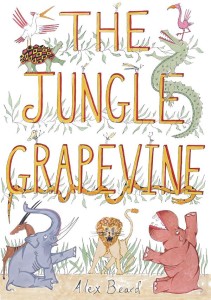 In this episode of Confetti Park we hear The Jungle Grapevine by author Alex Beard!
Alex is a fine artist who paints and draws beautiful animals and other inspiring sights from the natural world. He owns an art studio and gallery at 608 Julia Street where he displays his work, and which serves as a base for The Watering Hole Foundation, a nonprofit focusing on conservation. Alex wants to preserve the wilderness, natural beauty, and wildlife of our planet. He hopes that when children read his books, they will learn about the importance of conservation, even as they are entertained by the whimsical animal adventures.
The Jungle Grapevine is his first children's book (2009). It's a comedic game of telephone between animals in an African savannah:

When Bird mixes up something Turtle says, he accidentally starts a rumor about the watering hole drying up. One misunderstanding leads to another, with animals making their own hilarious assumptions.

 
No one is hearing anything right, and soon the animals are in an uproar from one end of the jungle to the other. Elephant is trumpeting, Croc is snapping, and the Flamingos are fleeing! 

There are two more books in the Watering Hole trilogy:  Monkey See, Monkey Draw, and Crocodile's Tears. Learn more about Alex and his mission in an upcoming interview with Confetti Park and at his website, http://alexbeardstudio.com/
Thank you Alex, for narrating The Jungle Grapevine for us!