Storytime: Kyser the Singing Schnauzer by Tommie Townsley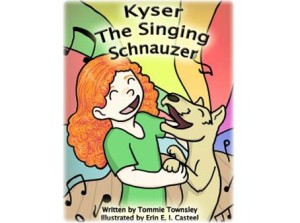 Meet Kyser, a dog who loves to sing! Author Tommie Townsley of Lake Charles, La., narrates this fun tale written in rhyme, inspired by her own dear pet. Apparently, the real-life Kyser really can sing!

The picture book is available through Tommie's company,
Kid's Kajun Tales
and
Ally-Gator Book Bites
. Written for 3-6 year olds, it is written in rhyme and rhythm.
Kyser says, "Sing along with me, and you will see, it is so much fun, and when you are done—YOU CAN READ!"