Storytime: To Dream of Dancing: Desdemona's Dreams by Z.W. Mohr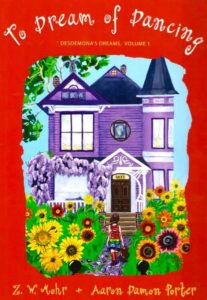 In this episode of Confetti Park, we hear an excerpt from the enchanting fairy tale To Dream of Dancing: Desdemona's Dreams, Volume 1. Z.W. Mohr, the author, narrates for us a dream poem and an introduction to Desdemona. This is an excerpt from the first book in his original series co-created with illustrator Aaron Damon Porter.

Desdemona is an 11 year old girl who is being raised by her two mysterious aunts and guardian teddy bear. When we first meet Desdemona, she is battling a mad maestro who wants to steal away her dream of dancing. When she awakes, her adventures continue…..
From this introduction, we, along with Desdemona, will discover she can bring her dreams into the waking world at a time when everyone else is forgetting how to dream.
Many more chapters of Desdemona's Dreams are to come from New Orleans-based co-creators Mohr and Porter. Currently, there is To Dream of Dancing: Desdemona's Dreams, Volume 1 and The Land of Mar: Desdemona's Dreams, Volume 2. The second book features pirates!!!
The Desdemona's Dreams series offers a whirlwind of adventures in magical places, with inspiring and strong female characters. It also shows us the beauty of a child's imagination, and how dreams shape the very world around us.
Stay tuned for an interview with Z.W. Mohr and Aaron Damon Porter on Confetti Park.