Pizza Poetry Project encourages writing by New Orleans school kids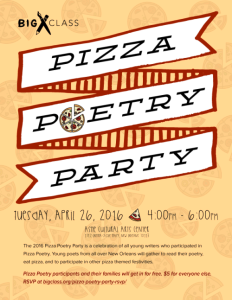 Question: What's better than getting a hot pizza pie delivered to your front door?
Answer: Getting a hot pizza pie delivered with a side of poetry!
LISTEN TO POEMS BY NEW ORLEANS SCHOOL KIDS
Anyone ordering a pizza in the city of New Orleans on April 15 got a bit of lagniappe with their pie… they got a poem written by a New Orleans school kid ages 6-18 included in the box! (Participating restaurants included Reginelli's, Theo's Pizza, Pizza Delicious, Louisiana Pizza Kitchen (French Quarter location), Dolce Vita Wood Fired Pizzeria, Garage Pizza and G's Pizza.)
It was all part of the 3rd Annual Pizza Poetry Project by Big Class, a nonprofit organization dedicated to cultivating and supporting the voices of New Orleans' writers ages 6-18 through creative collaborations with schools and communities. The project as always help in April—National Poetry Month. Read more about the Pizza Poetry Project in this article written for NOLA.com by Christy Lorio.
As a final celebration and reward for the kids, the Big Class hosted a Pizza Poet Laureate party at the Ashe Cultural Center on OC Haley. Confetti Park was there to capture the celebration and some of the poems in the kids' voices. Enjoy these poems and this slideshow of photos!