Music Memory from Emily Estrella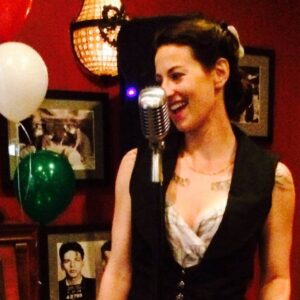 Emily Estrella is a singer who has spent the last several years singing traditional jazz and original tunes around the French Quarter and Marigny music clubs. You can even catch her busking on the streets of New Orleans on occasion.
She "has an 'old soul' voice evoking the Dixie ghosts of a previous century. Charismatic & joyous, she heads in to share her contagious repertoire of traditional acoustic folk-jazz." Visit her Band Camp page for some sound samples: http://emilyestrella.bandcamp.com
In this music memory shared with Confetti Park, Emily fondly discusses the impression her grandmother made on her when she was growing up.
"People ask me a lot, 'What record did you learn those old songs from?' My reply usually is, 'A record, what do you mean a record? My grandma sang me these songs!'" laughs Emily. "She taught me to dance, she sang with me a lot, and she told me about this magical place called New Orleans."