Interview: Jayna Morgan & the Swing Setters swing kids music
In this episode of Confetti Park, Katy Ray interviews jazz vocalist Jayna Morgan about her newest New Orleans band, the Swing Setters, a fun, energetic group that plays kids music jazz-style!
(Is this a great name for a jazz band that plays kids music, or what?!)

The
Swing Setters
truly fill a void in the New Orleans live music scene with their polished treatment of classic American songs, folk songs, and Disney favorites that kids love.
Says Morgan, "There's not many jazz bands in New Orleans that play children's music…we were trying to think of names of other people in New Orleans that have a great personality [that aren't grumpy!], very affable with children, who wouldn't mind being silly once in a while!"
The band is comprised of professional jazz musicians including Morgan on the vocals, Alex Owen on trumpet, Greg Agid on clarinet and saxophone, David Phy on trombone, Ted Long on guitar, Joe Kennedy on piano, Alan Broome on bass, and Gerald French on drums.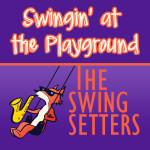 The band recently released their first CD, called Swingin' at the Playground, available for purchase online at http://11thcommandmentrecords.com/store/ This podcast includes several previews of songs from that record, including "Look for the Silver Lining," "The Glow Worm," "This Old Man," and "A-Tisket A-Tasket."